This weekend I had the opportunity to attend and participate in a beautiful wedding of two of my closest friends: Will Stoughton and Hannah Young. I was able to make it down to Swansboro in the late afternoon for the rehearsal — after a quick detour to the Jacksonville mall to get shirts for the groom and one of the groomsmen. The bride and groom had been kind enough to invite me to give a reading at their wedding, so I practiced going to the podium at the predetermined time and returning to my seat. The church was really beautiful, and I could see how the wedding was going to be a grand success in every way.
After the quick rehearsal, we all headed to the house that the Youngs rented for the weekend for the rehearsal. Jack and Deb Stoughton had arranged a classic Eastern NC pig pickin' for the event. Will had even arranged to have local NC beer brought in for the event. It was great to catch up with all of the groomsmen and families, some of whom I had never met. I knew immediately that I would become great friends with them immediately, and how right I was! After finishing the pig (I even took a holiday from vegetarianism, and though worth it because the pig was amazing, I now remember well why I left the world of carnivores earlier this year), we all had some cake with strawberry filling inside. The seeds popped just right, and the icing was really light. It was the perfect finish to the meal. A few of us stayed late and enjoyed some bourbon and caught up on happenings since the last time we saw each other about a month ago.
After the rehearsal, we all headed out to our respective abodes for the evening. I was exhausted from a long day of preparing, driving, and rehearsing. I fell asleep quickly and arose early the next morning to get to work. Hannah had asked me to put together a graphic for the front of their wedding program. I used the tree image that Jack, Will's father, had provided for the invitation and added a verse that the celebrant of the wedding has selected. Though I was limited on time, I think it turned out reasonably well and at least did not detract from the look of the wedding.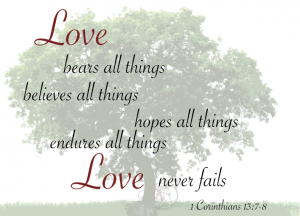 I sent the image to Fr. Bert, and headed over to the groomsmen's house, where Will (unbelievably for his wedding day) was making quiche. One of my favorite quotes of the day was his best man saying: "Will, want me to check on the quiche?" For the bunch of tough guys that that group can be, it was a pretty priceless line. With that said, the quiche was delicious.
We spent the day playing board games, enjoying the hot tub, and making trips to the beach until it was time to get ready for the big event. In some ways it is not fair because all of the gents were relaxing all day, while I'm sure Hannah was excited but extremely busy preparing.
I went back to my room above the Kayak shop where I was staying, and showered, shaved, and generally prepared mentally. I arrived at the wedding and took my seat with my co-reader Seth Ray. At the requisite time, I approached the podium, read my words, and descended back to my seat. I was very fortunate to have a very meaningful reading:
But Ruth said, "Do not urge me to leave you or turn back from following you; for where you go, I will go, and where you lodge, I will lodge. Your people shall be my people, and your God, my God.
"Where you die, I will die, and there I will be buried. Thus may the Lord do to me, and worse, if anything but death parts you and me."
When they asked me if I had practiced before the wedding, I jokingly responded that I had been practicing reading for >20 years, but I was thankful when it was over and I had not rushed through or messed up any words. My day was a success!
After the wedding, the bride and groom took pictures, then mounted their tandem bike for the ride to the reception hall. Honestly, when they told me ahead of time that they were doing this, I thought for sure there would be at least 1 bloody groomsman, bridesmaid, or recently married person, but when they arrived at the main road to cross into the reception's parking lot, everyone was intact!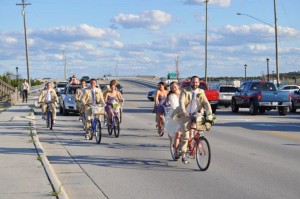 There was, however, 1 very major road to cross. I (foolishly) volunteered to stop traffic so they could cross. At the appropriate time, I stepped into traffic, waving my arms about wildly and the huge pickup trucks grudgingly ground to a halt well shy of my demise. But immediately as they realized what was going on, horns started blaring and the cheers erupted! The whole wedding party crossed and made it safely to the reception hall, dismounted, and engaged their feet once again on the terra firma.
The reception started outside with Pimm's — which is amazing because it takes me back to England — and shrimp. It was a nice light snack to hold everyone over while pictures were going on. We then moved inside, and the wedding party was introduced. We started right away with toasts. This was definitely one of the high points of the night. Each toast made everyone laugh and cry at times. Lindsay, the maid of honor, Ian, the best man, and Colonel Mike Young, the father of the bride, all gave amazing toasts. Col. Mike, though, blew everyone away with a toast that was at times so touching that the audience was breathless, and at other times it was difficult to hear because people were laughing so hard.
We danced, ate, and drank the night away. When the night was nearly over, Will and Hannah, the happy but I'm sure exhausted, couple boarded a boat to take them to a Bed and Breakfast where they were staying. The rest of us continued the festivities late into the night. It was an absolutely beautiful day and night, and I could not be prouder for my friends than I was.
The next morning, the wedding party and a few close friends came together at the house of a friend of the Youngs'. We had a nice brunch and talked about the night before. The morning ended with the traditional opening of gifts and many goodbyes. I had thought that this would be the end of my weekend, but the Youngs and Stoughtons invited me to stay with them for one more day at the beach and having a relaxing time. I got to know both families even better. The fall weather was just perfect, and it was really nice to have a truly relaxing time after a weekend of so many people and events. We all decompressed by reading and talking on the porch, listening to the crash of the waves, and eating good food.
Finally, on Monday morning, we all arose (relatively) early to pack up the house and return to our real lives. Though we were all sad to leave, we all were very proud that the weekend was a success. Two people were married into a happy life, and two families were joined in a very positive way.
It was more than a beautiful weekend. For me, it was a decompression weekend that I needed with a great group of people. Though I am not sure they will read this, I must thank the Youngs and Stoughtons once again. They are two of the loveliest groups of people I have ever met. They treated me like one of their own and allowed me to take part in a small way in one of the best days in all of their lives. They all even went a step further and allowed me to stay an extra day to enjoy their company. Hopefully I will see them all again soon.