Friday
This last weekend, I had a chance to visit Boston and environs with friends for the Head of the Charles Regatta. It had been three years since I had last visited Boston, and though my last visit was blessed by sunny weather, I had always remembered my HOCR visits as being rainy and cold.
This weekend was very different. Everyone agreed that it was the first real weekend of autumn: cooler temperatures, sun, leaves changing, a crisp breeze, overnight coldness. It was the consummate New England weekend (at least in my limited New England experience).
I arrived on Friday morning — the first of my cadre to arrive, and dragged by bags from Logan to South Station to Andrew Station. Then I walked to the apartment that we had booked, but I was too early to check in. I dragged my suitcases around the block to a coffee shop. They did not accept cards, but I was lucky to have enough cash on hand to buy a coffee to enjoy while I got in touch with the apartment owner to check in a few minutes early. I finally did, deposited my bags at the apartment, and headed out exploring. Win told me that the internet had suggested Bukowski's on Cambridge St. The food there was excellent, and they had some pretty awesome beers to try. After a quick beer and a huge, delicious plate of fish and chips, I set off once again.
I realized that I had left 2 things at home: a cord to charge my iPhone and the SD card for my camera. I realized this as my phone was about to die. With my phone's dying breath, I looked up where I could find a Radio Shack or somewhere else that I could find these needed items. Unfortunately, my phone died before I could actually figure out where the store was in relation to me. I set off in what I thought was the right direction. After almost an hour of zigzagging streets and thinking that I would be lost in Cambrdige/Somerville forever, I cam upon an oasis, a burning light shining in the distance, a Target. I was able to score a charging cord and an SD card and headed outside. I plugged my phone into my laptop to get it charging, and I set off toward Cambridge to find a coffee shop, rest my tired legs, and get some emails written.
Shortly after getting to the coffee shop, Will called me to tell me that he and Sharon had arrived into Logan. I headed back to the apartment and met up with them. We went out for dinner (to Bukowski's again) and then headed in to catch up with the others in our group. We were 9 in all. We spent the evening catching up at the apartment, talking, and finally falling asleep.
Saturday
On Saturday, Mark and I got up and went for a run. We headed toward the river — through the warehouse district of South End — all the way up to Boston Medical Center and back. It ended up being about 4 miles. I remember saying to Mark "this isn't too bad, but I wouldn't want to walk here late at night". Of course, saying those words guaranteed that we would be walking there later that night.
When we got back, we finally got everyone up and showered, and headed to the race course. Will and Brian had left early to catch some of the morning races, but most of us were simply too tired to move that quickly. We got down to the race course. Brian and Will had staked out a bench, so we all sat around and watched races for most of the day. After a while, we headed up to Eliot bridge to see the races go below. Then we headed down to the vendor area to check out the SWAG there, grab some hot cider, and see what new tech was coming to the rowing world — let's face it, this is basically the SXSW of the rowing world. On the walk down, I had one of the most memorable moments of the trip. I was recognized in my Trinity Hall Boat Club jacket.
For those that have not yet been dragged through the world of rowing: many older clubs have boat club jackets. In most cases, they are colored dinner jackets with highly contrasting piping on them and a crest on the pocket. When I rowed at Trinity Hall in Cambridge, I earned a boat club jacket and wear it proudly whenever I go to the HOCR. Almost everywhere except the largest rowing regattas, you will be looked at like some sort of fashion freak for wearing these ridiculous jackets, but fashion gets a pass at these events in the name of rowing posterity. The reason I said "in most cases" earlier is that my college's colors are the supremely classy black and white. Rather than something ridiculous like navy blue and magenta, our colors are compatible with black tie affairs — so my white boat club jacket with black piping is not as ridiculous as some out there.
As I am walking along the path beside the river, I hear "Trinity Hall!!" and see a British guy running my way. It turns out that he had rowed for my college a few years before I did. He told me that a boat from Downing (another Cambridge College) was racing this year. Even though on the Cam, Trinity Hall really dislikes Downing for having taken headship at bumps from them, this far away there is some small brotherhood. As the Downing boat rowed by a few hours later, I know that there were at least 2 fans yelling "Row Hall" at them — the American football equivalent of yelling "Go Wolfpack" in support of Chapel Hill in some far off land.
In the interim, waiting for Downing's race, we took a look at the vendors out there. There are always lots of cool things for sale. Maybe the top one for me was the SmartOar. I have always had an interest in rowing data since Saket Vora, Win Bassett, I, and others worked on Advanced Rowing Instruments (pdf). The SmartOar took a very different approach than we had planned. While our focus was on boat analysis based on accelerometers (in 2006-2007, this was a totally new concept), SmartOar actually puts sensors on the oar to determine the flex of every shaft during the stroke to analyze power and motion. The upside is that it is highly accurate — though I'm not sure that I believe it will be 100% stable over time as the carbon and fiberglass of the oars begin to flex more and more over time — the downside is that it requires several hundred to one thousand dollars per oar. For big teams, this is not a huge deal. For small team, this cost is completely prohibitive. On a side note, Nielsen-Kellerman has just released gyroscope, accelerometer, and GPS based CoxBoxes in addition to modular batteries, a modular battery bullhorn, and a smaller CoxVox — all products on an ARI roadmap 5 years ago. It turns out we may have been on to something.
After watching the races for a bit longer, we all met up near Harvard Square. On the walk there, I ran into my Norfolk Acedemy classmate and coxswain Douglas Melchior. Douglas had just graduated from HBS, and invited me to come by his space in the brand new Harvard Innovation Lab. We exchanged phone numbers and said we would catch up later. It is amazing who you can run into in a totally different city if you keep your eyes open.
Once we met up with the rest of our group, we all decided that it was time to find some food. The first time I visited Boston, I was all about some chowda down by the race course. I have since had my eyes opened to the fact that there are better placed to eat in Boston, so the whole group decided to move on. A few of us decided to go to 9 Tastes just off of Harvard Square in Cambridge. It is a small Thai place below street level. Though when we first entered, it was rather empty, by the time we were leaving, there was a line out the door. Clearly, we are trendsetters…or something. The food there was really good. I ordered a traditional Thai soup to start and a regular vegetarian main. The main course had 1 pepper next to it, indicating slightly spicy. The soup had 2 peppers, indicating spicier than 1 pepper. It turns out that this scale is not linear. 2 peppers is 1,000,000 times spicier than 1 pepper. The food was really good, though, despite the fact that the soup nearly killed me after about 10 spoonfuls.
After dinner, the four of us walked around Harvard for a while, exploring different streets. We did not leave the area without a trip to Burdick's, though. It is an incredible chocolate shop near Harvard Square. We got mochas and hot chocolates and started the walk to the T. When we arrived at the T, we discovered that the red line was shut down. Unfortunately, that was the line that was supposed to take us back to our apartment. Luckily, there was a shuttle that could take us to the South End, so we hopped on the packed bus and headed that way. We disembarked at the Boston Medical Center and started our hike south. This just happened to be on the streets that just hours before, during daylight, I had said I would not want to walk at night. They were dimly lit, warehousey, alley-filled streets. It wasn't that there was anything particularly unsafe that I could point out other than the fact that we felt very alone out there. It was a relief to get back to the apartment — 2 miles later — and rest our tired legs. We watched the last of some west coast football and relaxed for the night.
Sunday
Sunday was the day we all were to go our separate ways. We had to check out of the apartment by 11:00, so we all got up and packed up our stuff. I got in touch with my friends Scott and Meghan about coming by, and headed off toward Somerville. Scott lived next door to me in Cambridge, was the President of the MCR at Trinity Hall, and had his PhD minted last year. Meghan was in Cambridge while I was as well, finished her Master's, and returned to Boston. Scott proposed earlier this year, and I was really excited to wish them all the best in person.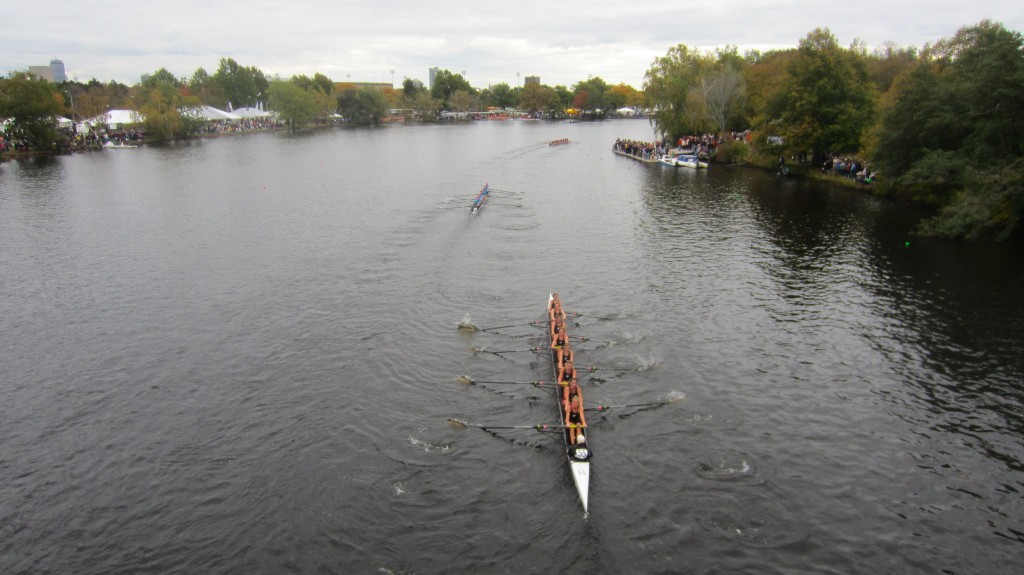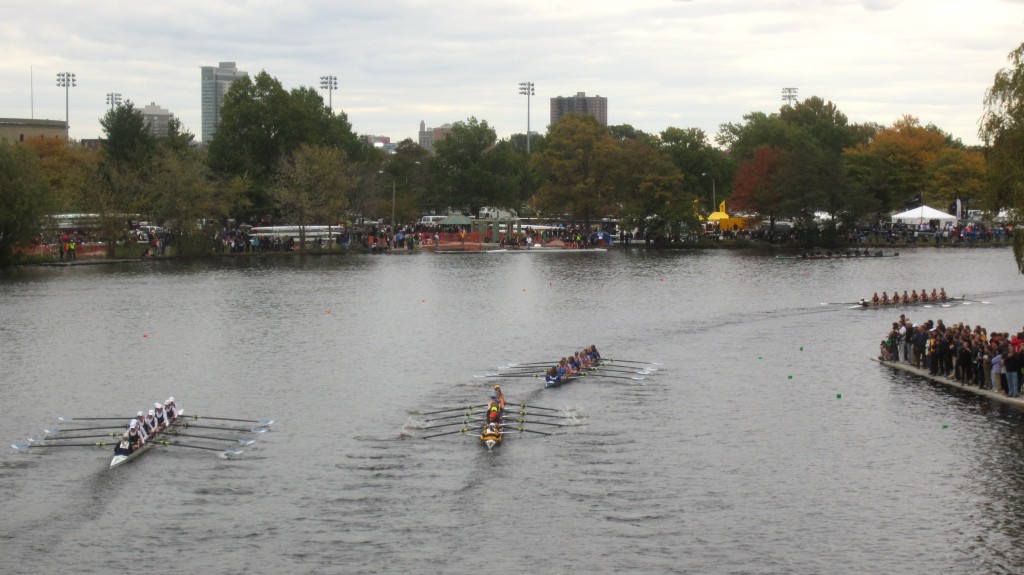 I made my way to Somerville, and dragged my bags up and down hills until I found their house. They made a delicious brunch of pancakes and fruit, and we talked and caught up on old times. They are such great people, it had truly been too long since I had seen them. We reminisced about Cambridge and told stories about all that had happened in the last 3 years since we had last really seen each other. Time flew, so soon it was time for me and Scott to head down to the river to see the elite races — the real highlight of the HOCR. We donned our matching Trinity Hall scarves, and headed to the race.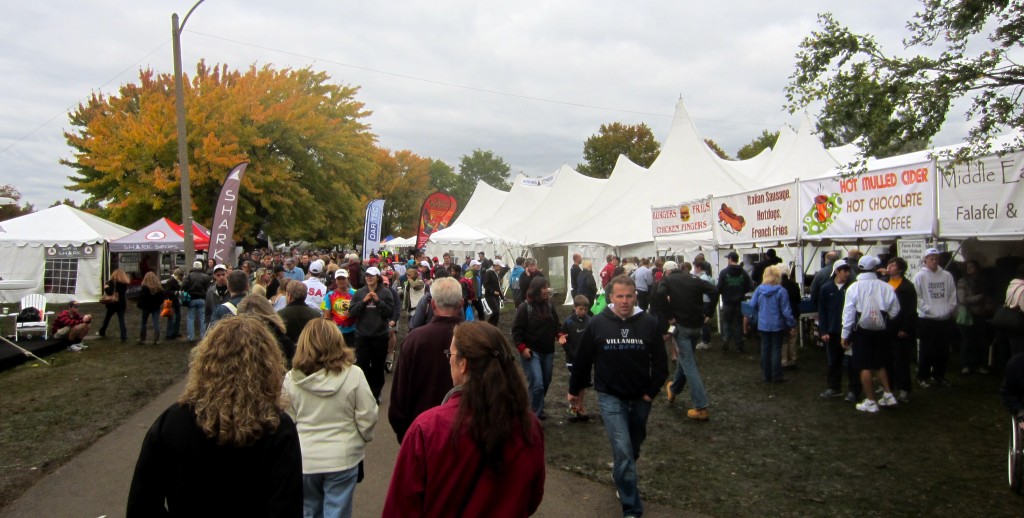 We watched the races. I finally sprung for a new HOCR rugby shirt — my old one was >5 years old and had shrunk beyond wearability — and we caught up with my friends from down south. We walked around a while longer, then headed back to Scott and Meghan's house.
That night, we visited Scott and Meghan's friends for dinner, where they made an amazing salmon dish. We all enjoyed some wine, great company, and good conversation. We then went back to Scott and Megan's house and called it a night.
Monday and Tuesday
I spent Monday and Tuesday exploring around Boston and environs. I made it all the way out to Wellesley Hills where I had tea at an amazing tea shop and saw some really intense fall colors. I made it over to Kendall/MIT and had a chance to sit at a cafe and relax. I ate at the Clover food truck — a real treat.
On Tuesday, Meghan was kind enough to let me leave my suitcases at her office, very near to South Station where I would catch the Silver Line to the airport in the afternoon. Then, I headed across the river to Harvard Business School to meet up with Douglas. The Harvard Innovation Lab is a new building. It is very nice, open, and geared for collaboration. Douglas explained the company he was starting Vaiad, to me. It is essentially a new channel by which to sell website advertising. It looks to be extremely easy to use, well thought out, and poised for success. Hopefully we will see big things from them in the future. Douglas and his business partner took me around campus a bit. We finally headed to lunch at HBS's amazing refectory.
From there, I hot-footed it back to South Station, picked up my bags, and caught the Silver Line back to Logan for my flight home.
It was a long 5 days: Many tens of miles of walking, lots of picture taking, great friends, and rowing. How much better does a long weekend get? The answer: not much. Thanks to everyone who made it such a great event.